DH WEB recently launched a brand new website for The Maryland Theatre.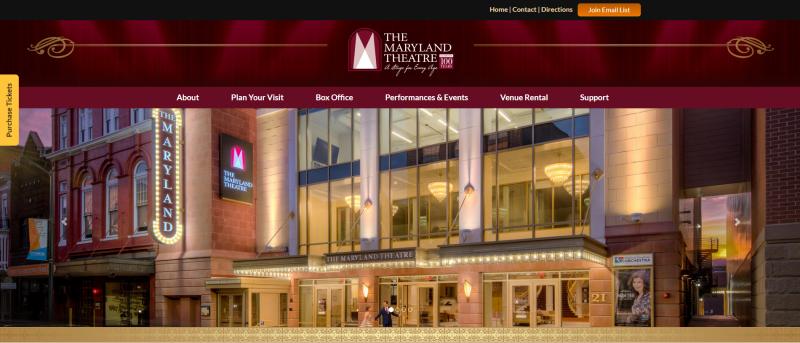 DH WEB recently launched a new website to coincide with the $15 million Maryland Theatre expansion project
The Maryland Theatre 30,000 square foot expansion which will restore The Theatre to its original footprint prior to the fire which destroyed the front of the building in the early 1970's. The expansion will replace a current outdoor courtyard and will consist of 5 floors total in order to transform The Maryland Theatre, the crown jewel of Hagerstown's A&E District into a Performing Arts Complex. Once completed, the Maryland Symphony Orchestra's administrative offices and box office will relocate to new office space on the second floor of the theatre.
The Maryland Theatre welcomes patrons annually for a variety of performances, public events, and private events including fundraisers, business meetings, conferences, small conventions, weddings, rehearsal dinners, bridal showers, birthday parties, holiday gatherings, and religious celebrations.
The Maryland Theatre and Performing Arts Center is proud to serve as the home of regional arts organizations such as Symphony Orchestra, Barbara Ingram School for the Arts, City Ballet School, Hagerstown Community Concert Association, Authentic Community Theatre, and the Miss Maryland Scholarship Pageant.
The Maryland Theatre, Inc. is a 501 (c) 3 not-for-profit organization. The Mission of the Maryland Theatre Association, Inc. is to preserve, restore and maintain the Maryland Theatre as a historical property and to provide quality entertainment, educational and cultural offerings to the community at large.
Click Here To View The New Website
---