Performance Boats Has a New Website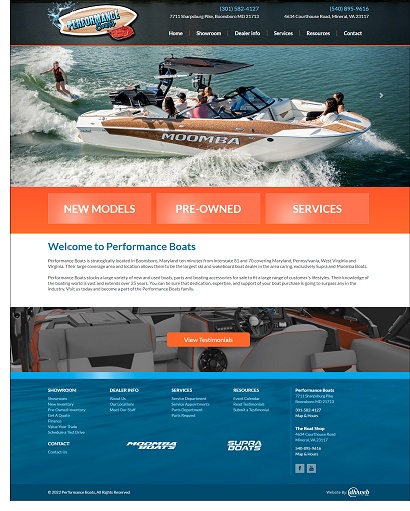 Performance Boats is not like any other boat dealership around. Partly to the fact that Performance Boats is a family owned and operated boat dealership and because they truly care about the customer. When you come in to purchase a boat from Performance Boats, Ray will take the time to ensure that you end up in the right boat for you; price, boating location, and lifestyle.
Performance Boats is strategically located in Boonsboro, Maryland ten minutes from interstate 81 and 70 covering Maryland, Pennsylvania, West Virginia and Virginia. Their large coverage area and location allows them to be the largest ski and wakeboard boat dealer in the area caring, exclusively Supra and Moomba Boats.
Performance Boats stocks a large variety of new and used boats, parts and boating accessories for sale to fit a large range of customer's lifestyles. Their knowledge of the boating world is vast and extends over 25 years. You can be sure that dedication, expertise, and support of your boat purchase is going to surpass any in the industry. Visit us today and become a part of the Performance Boats family.
View the new website here: performanceboatsmd.com
---