Juniata River Blueprint Communities
DH WEB is a web development company that specializes in creating innovative and effective websites for clients in various industries. One of their recent projects involved developing a new website for Juniata River Blueprint Communities, an organization dedicated to promoting sustainable development and environmental conservation in central Pennsylvania.
The Juniata River Blueprint Communities website was designed to provide a user-friendly platform for visitors to learn more about the organization's mission, goals, and ongoing initiatives. DH WEB worked closely with the client to understand their specific needs and develop a customized website that met their requirements.
The new website features an intuitive navigation menu, high-quality images and graphics, and a responsive design that looks great on any device. DH WEB also implemented a content management system that allows the client to easily update and manage the website's content, ensuring that it remains up-to-date and relevant.
In addition to the website design and development, DH WEB also provided search engine optimization (SEO) services to help improve the site's visibility and increase traffic. The company conducted extensive keyword research and implemented best practices to ensure that the website was optimized for search engines, helping to drive more organic traffic and increase the organization's online visibility.
Overall, DH WEB's work on the Juniata River Blueprint Communities website was a success, providing the organization with a modern, user-friendly platform to promote their important work and engage with supporters and stakeholders. Through their careful attention to detail, innovative design, and technical expertise, DH WEB helped the client achieve their goals and create a powerful online presence.
View the new website here: www.jrblueprint.org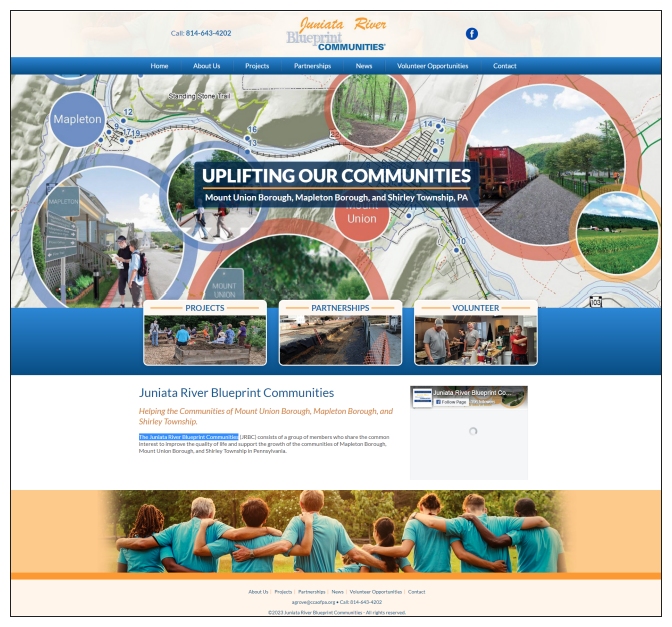 ---