Dust Off Your Golf Clubs for a Round at The Great Cove Golf Club.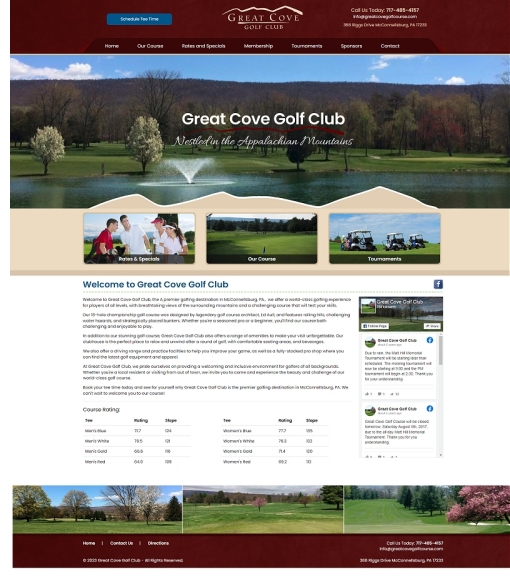 DH WEB, a web development and design agency based in Maryland, has recently designed a new website for the Great Cove Golf Course www.greatcovegolfcourse.com located in McConnellsburg, Pennsylvania. The new website offers a fresh and modern design that is sure to provide golf enthusiasts with a seamless user experience.
The Great Cove Golf Course is a beautiful and challenging 18-hole course that has been a favorite among locals and visitors alike for many years. With the launch of their new website, Great Cove Golf Course now has an online presence that truly represents the beauty and character of the course.
The new website offers a range of features that make it easy for visitors to navigate and learn more about the golf course. Users can easily access information on the course layout, tee times, rates, and special events. The site also offers a virtual tour of the course, allowing visitors to get a glimpse of the breathtaking scenery before they even set foot on the course.
One of the standout features of the new website is the integration of an online booking system, which allows users to book tee times and pay for them online. This feature makes it easy for golfers to plan their visit to the Great Cove Golf Course and ensures that they can secure their preferred tee times in advance.
The website is also mobile-friendly, which is crucial in today's fast-paced world where people are increasingly accessing websites from their mobile devices. The mobile version of the website has been optimized for smaller screens, ensuring that users can easily access all the information they need on the go.
Overall, the new website designed by DH WEB for the Great Cove Golf Course is a welcome addition to the course's online presence. It offers a modern design, intuitive navigation, and a range of features that make it easy for visitors to learn more about the course, book tee times, and plan their visit. Golf enthusiasts in McConnellsburg and beyond are sure to appreciate the new website and the enhanced user experience it provides.
View the website here: www.greatcovegolfcourse.com
---