Unveiling the New Website for SL Koontz Contractors: A Seamless Online Experience Crafted by DH WEB.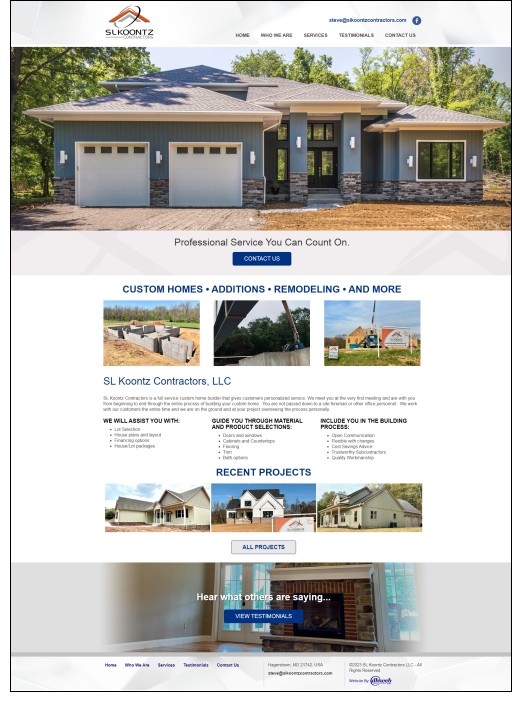 In today's digital age, an online presence plays a crucial role in the success of businesses across industries. Recognizing this, SL Koontz Contractors, a leading construction company, has recently launched their new website, designed by the custom web development agency DH WEB, Inc. This freshly designed website features design elements and a user experience to expand SL Koontz Contractors' online growth and customer engagement.
SL Koontz Contractors is a full service custom home builder that gives customers personalized service. We meet you at the very first meeting and are with you from beginning to end through the entire process of building your custom home. You are not passed down to a site foreman or other office personnel. SL Koontz Contractors work with their customers the entire time and they are on the ground and at your project overseeing the process personally. Serving Washington County, MD, Franklin County, PA, and Fulton County, PA.
The first aspect that strikes visitors upon landing on SL Koontz Contractors' new website is its sleek and modern design. DH WEB, Inc. has expertly crafted a visually appealing interface that harmonizes form and function. The color palette is tastefully chosen to reflect the company's brand identity while ensuring a comfortable browsing experience for users. The website's layout is intuitive, with a clear navigation menu and strategically placed calls-to-action, guiding visitors through the various sections seamlessly.
One of the primary objectives of SL Koontz Contractors' website is to showcase the breadth and quality of their services. DH WEB, Inc. has succeeded in creating an engaging and informative platform that effectively highlights the company's offerings. Through well-crafted descriptions, captivating imagery, and project galleries, potential clients can gain an in-depth understanding of SL Koontz Contractors' expertise in construction, remodeling, and renovation projects.
DH WEB, Inc. has provided a dedicated space on the website for SL Koontz Contractors to display their extensive project portfolio. This section serves as a visual testament to the company's proficiency and showcases completed projects across various industries. By presenting a diverse range of successful undertakings, SL Koontz Contractors can inspire trust and confidence in potential clients.
Moreover, the website includes a testimonial section where satisfied clients can share their positive experiences working with SL Koontz Contractors. These testimonials add credibility and demonstrate the company's commitment to client satisfaction, further influencing potential customers in their decision-making process.
Recognizing the importance of an excellent user experience, DH WEB, Inc. has implemented various features to ensure that visitors have a seamless and enjoyable browsing experience on SL Koontz Contractors' website. The website is optimized for different devices, including desktops, tablets, and smartphones, enabling users to access the content effortlessly from any platform.
The website's loading speed has also been optimized, minimizing waiting times and reducing the likelihood of visitors bouncing off the site.
To facilitate effective communication between SL Koontz Contractors and potential clients, DH WEB, Inc. has integrated multiple contact channels throughout the website. Visitors can easily find the company's contact information, including phone numbers, email addresses, and a contact form. This accessibility encourages users to reach out, ask questions, and request additional information, ultimately fostering valuable business relationships.

The collaboration between SL Koontz Contractors and DH WEB, Inc. has resulted in the creation of a stunning and highly functional website that effectively represents the company's services and values. With its sleek design, comprehensive service showcase, project portfolio, testimonials, and enhanced user experience, the new website is set to elevate SL Koontz Contractors' online presence and drive customer engagement.
View the new website here: www.slkoontzcontractors.com
---