Introducing the New Mack Berry Website by DH WEB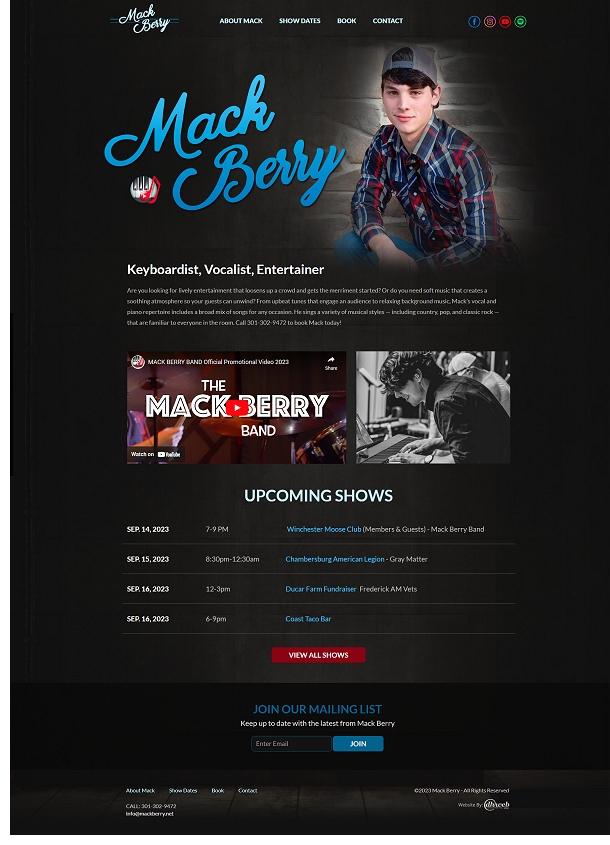 In today's digital age, a strong online presence is paramount for entertainers. A well-designed website not only serves as a virtual storefront but also reflects the essence and professionalism of its owner. That's precisely what the newly launched website, www.mackberry.net, does for Mack Berry, and it's all thanks to the expertise of DH WEB, Inc.
Before we delve into the exceptional design of the website, let's get to know the man behind it, Mack Berry. Mack sings and plays to entertain crowds with energetic tunes that keep people moving to his music. His range of vocal skills gets his audience clapping with familiar songs or relaxing to soothing melodies. His wide variety of refined songs (including classical and Christian) provides soft background music for parties, businesses, and special events. Mack is a member of The Full Effect Band, singing vocals and playing keyboard for this classic rock, soul, and rock-n-roll band that gets folks in motion on the dance floor. He will also fill-in for an absent member of a band or musical group.
DH WEB, Inc. is a leading web design and development company known for its innovative and user-centric approach to website creation along with outstanding customer service. With a track record of delivering stunning websites across various industries, they were the perfect choice for bringing Mack Berry's vision to life.
The Mack Berry Website: A Visual Delight. The new www.mackberry.net is a testament to the skill and creativity of DH WEB, Inc. The website seamlessly combines aesthetics and functionality, offering an immersive user experience from the moment you land on the homepage.
Eye-catching Design. The website greets visitors with a visually stunning design that reflects Mack Berry's vision. The crisp and modern layout makes navigation a breeze, ensuring that visitors can quickly find the information they seek.
DH WEB, Inc. has ensured that the website is user-friendly across all devices, whether you're browsing on a desktop, tablet, or smartphone. The responsive design and intuitive navigation make it easy to access the site's valuable content from anywhere, anytime.
With the launch of this outstanding website, Mack Berry has not only solidified his online presence but also enhanced his ability to connect with a wider audience.
The newly designed www.mackberry.net by DH WEB, Inc. stands as a shining example of how a website can effectively convey a entertainer's essence and values. Through its captivating design, informative content, and user-friendly interface, it offers visitors an immersive experience while showcasing Mack Berry's commitment to his music.
In an age where online presence is paramount, Mack Berry's website sets a high standard. It is a testament to the power of collaboration between visionaries like Mack and skilled web designers like DH WEB, Inc.
View the Mack Berrry website here: www.mackberry.net
---