With over 5 months in the making, Joe Salter Unveils a Cutting-Edge New Online Shopping Experience with DH WEB, Inc.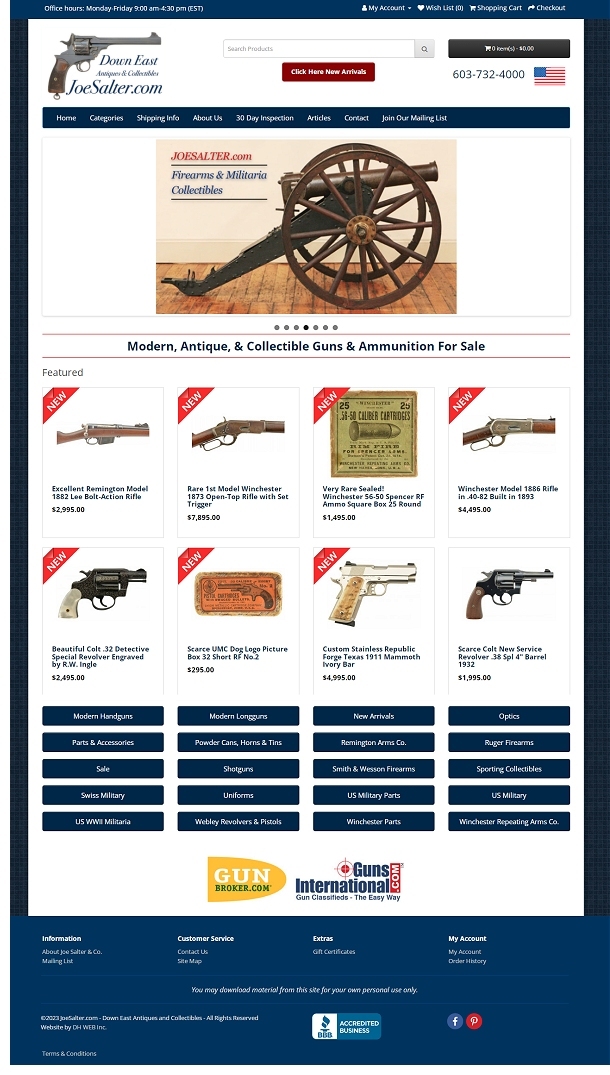 Introduction
Joe Salter, is a renowned name in the world of firearms and militaria collecting and has recently taken a significant leap forward in the online marketplace with the launch of its new website, shop.joesalter.com, designed by DH WEB, Inc.
Joe Salter has been in the Antique and Collector Weapons business for 60+ years as both a collector and dealer. Their company is based in Southern New Hampshire and has had an internet based store front for the past 20 years. They are federally licensed and deal in all types of antique firearms and related material.
In the digital age, an online presence is essential for businesses of all sizes, and when it comes to selling rare and collectible firearms and militaria, having a user-friendly, secure, and visually appealing website is paramount. This article explores the exciting features and enhancements that make Joe Salter's new website a must-visit destination for collectors and
enthusiasts alike.
A Seamless User Experience
The first thing that strikes visitors to Joe Salter's new website is the streamlined and intuitive user interface. DH WEB, Inc. has expertly crafted a user experience that caters to both novice collectors and seasoned enthusiasts. The homepage welcomes visitors with eye-catching visuals and easy navigation, ensuring that users can find exactly what they are looking for with minimal effort.
Search Functionality
One of the standout features of the new website is its powerful search functionality. With an extensive inventory of rare firearms and militaria, finding that specific item you've been hunting for can be a daunting task. However, DH WEB, Inc. has integrated a robust search engine that allows users to filter products by category, era, manufacturer, and more. This not only simplifies the browsing experience but also helps collectors discover hidden gems they might have
otherwise missed.
Detailed Product Listings
Each product listing on the Joe Salter website is a treasure trove of information. DH WEB, Inc. has meticulously organized product details, high-resolution images, and historical context for each item. Whether you're interested in a vintage firearm, a unique piece of militaria, or simply want to learn more about the items on display, the website provides comprehensive insights that enrich the collector's experience.
Security and Trust
Security is a paramount concern for any e-commerce platform, especially when dealing with firearms and collectibles. Joe Salter's new website takes security seriously, with robust encryption and secure payment processing to protect both buyers and sellers. DH WEB, Inc. has implemented state-of-the-art security measures to ensure that every transaction is safe and secure, giving customers peace of mind when making a purchase.
Mobile-Friendly Design
In an era where many
users shop and browse on their mobile devices, having a responsive and mobile-friendly website is crucial. Joe Salter's new website boasts a responsive design that adapts seamlessly to various screen sizes and devices, ensuring that collectors can shop conveniently on their smartphones and tablets.
Community and Blog
Beyond just being a marketplace, the Joe Salter website serves as a hub for the collector community. The integrated blog section offers informative articles, historical insights, and news updates related to firearms and militaria. This creates an engaging and informative environment where collectors can learn, share, and connect with like-minded enthusiasts.
Conclusion
Whether you're a seasoned collector or just beginning your journey, Joe Salter's new website at shop.joesalter.com is a must-visit destination for all firearm and militaria enthusiasts.
Visit shop.joesalter.com today.
---