Laura Bryna's New Website Unveiled!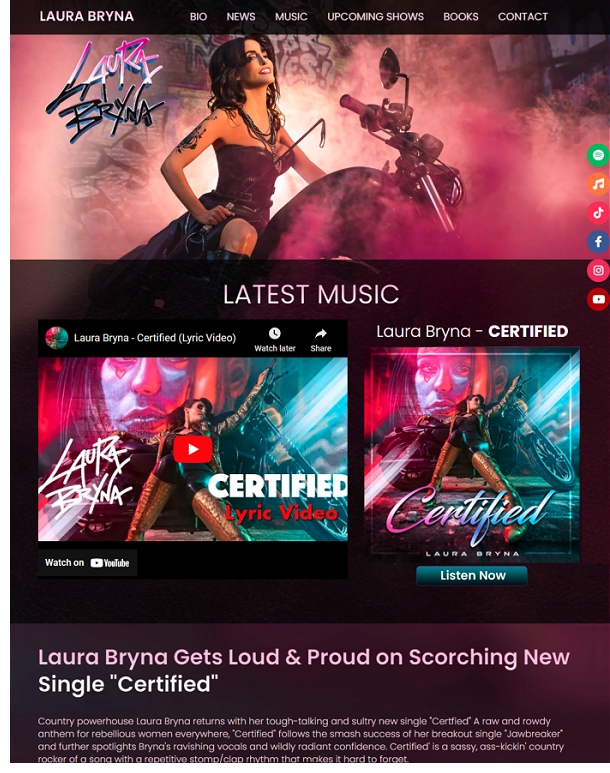 We are thrilled to announce the grand launch of Laura Bryna's brand-new website: www.laurabryna.com! Crafted with creativity and precision by the talented team at DH WEB, Inc., this online space is designed to bring fans closer to the multi-talented artist and provide an immersive experience like never before.
Explore Laura Bryna's World:
Step into the vibrant world of Laura Bryna as you navigate through her sleek and user-friendly website. From her latest music releases and chart-topping hits to exclusive behind-the-scenes content, the website offers a comprehensive overview of Laura's diverse talents and achievements.
Captivating Visuals:
Immerse yourself in stunning visuals that showcase Laura Bryna's dynamic career. Browse through a captivating photo gallery capturing memorable moments from live performances, studio sessions, and more. The website is designed to be a visual feast for fans who want to get a closer look at Laura's journey.
Music Central:
Get ready to groove with easy access to Laura's music catalog. Stream her latest tracks, watch music videos, and stay up-to-date on upcoming releases. The website is your go-to hub for experiencing the soulful melodies that have made Laura Bryna a standout artist in the music industry.
Latest News and Updates:
Stay in the loop with the latest news and updates directly from Laura Bryna. Whether it's announcements about upcoming tours, collaborations, or exclusive content drops, you'll be the first to know by visiting www.laurabryna.com.
Exclusive Fan Zone:
As a token of appreciation for the unwavering support from fans, Laura Bryna's website includes an exclusive fan zone. Access special content, participate in contests, and connect with fellow fans who share the same passion for Laura's music and artistry.
Connect with Laura:
The website is not just a platform for exploring Laura Bryna's work; it's also a space for connecting with the artist herself. Find links to her social media profiles, join the newsletter for insider updates, and interact with Laura's vibrant online community.
A Collaboration with DH WEB, Inc.:
This exciting project was made possible through the collaboration with DH WEB, Inc., a leading web design and development agency known for its innovative and visually appealing creations. The partnership aimed to create a digital space that reflects Laura Bryna's unique style and resonates with her audience.
Visit www.laurabryna.com now and embark on a journey through the artistry and passion that define Laura Bryna. Join us in celebrating this milestone and stay tuned for the incredible experiences that lie ahead!
Visit www.laurabryna.com today.
---