Wilson's Quilt Shop Launches New Website "I Luv 2 Quilt" developed by DH WEB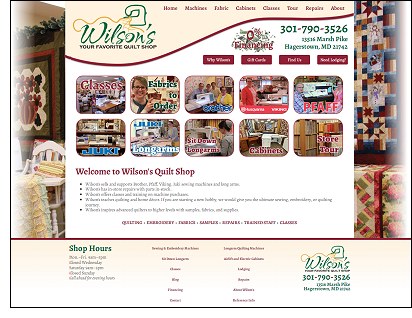 Wilson's Quilt Shop, a leading provider of high-quality quilting supplies and accessories, has just launched its new website, "I Luv 2 Quilt" at www.iluv2quilt.com. The site features an updated design and a more user-friendly interface, making it easier for customers to find out more information.
The new website features an extensive product catalog, including a wide range of fabrics, threads, and other quilting supplies. Customers can browse by category, search for specific items, or use the advanced search function to find exactly what they're looking for. The site also offers a variety of helpful resources, including quilting patterns, tutorials, and articles on the latest quilting techniques and trends.
In addition to its comprehensive product offering, Wilson's Quilt Shop has also added several new features to the site to enhance the shopping experience for its customers. For example, customers can purchase Gift Cards, watch videos, sign up to receive their newsletter and class schedules.
"We're very excited to launch our new website and provide our customers with a better shopping experience," said Wilson, owner of Wilson's Quilt Shop. "We've worked hard to make sure that the site is easy to navigate, has a great selection of products, and provides helpful resources for quilters of all skill levels. We're confident that our customers will love the new site and appreciate all the improvements we've made."
Customers are encouraged to visit the new site at www.iluv2quilt.com and explore the updated design and features. With its commitment to providing the best possible quilting supplies and accessories, Wilson's Quilt Shop is poised to continue its growth and success for years to come.
View the website here: www.iluv2quilt.com
---